Enhancing the Passenger Flow
Elevation Software offers fully accessible dynamic solutions and products for the travel industry that empower passengers from check-in to bag drop. The Elevated Integration Platform can be setup across many types of hardware, including access gates and turn-styles all the way to self-service devices and mini-printing stations. The platform can be run in airports, train stations, cruise ports, and many other applied areas. Our self-service product line aims to remove common barriers this industry typically faces in attempting to process passengers efficiently. The Elevated Integration Platform starts with a Custom Device SDK and layers proprietary user facing products that enhance and secure the passenger flow. Provide your staff and customers with peace of mind by embracing the next generation of software technology.
Contact us about our range of software solutions and how they can help your workflow!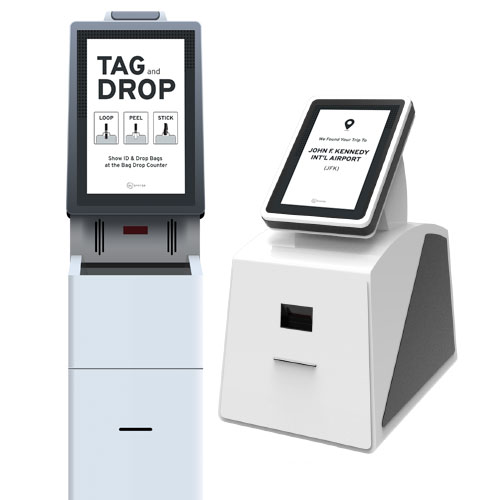 Elevated Tagging TM
30 second or less bag drop – built on our CUSS 2.0 platform
Elevated TaggingTM is our advanced self-bag drop solution for the travel industry to decrease lobby congestion and increase passenger independence. Our software takes seconds to authenticate the checked-in passenger, print bag tags and speed them through a hassle-free bag drop. In tandem with our self-bag drop solution, Blndspt uses the power of simulation to help you experiment with changes before spending large amounts of money. This allows for absolute certainty when making real changes to the passenger experience.
Features:
Multi-Passenger independent tagging solution
Owned and Common Use Self Service kiosk compatible (CUSS 1x and 2.0)
Digital & Biometric authentication
Highly customizable interface
ACAA & ADA compliant
Large, user-friendly touch points improve passenger experience
Multi-Lingual / Text to speech
Built on our Elevated CUSS Custom Software Development Kit (SDK)
Kiosk management software
Benefits:

Reduce airline costs
Reduce lobby footprint (less hardware, less staff and less queuing)
Increase passenger mobile usage
Increase passenger experience and satisfaction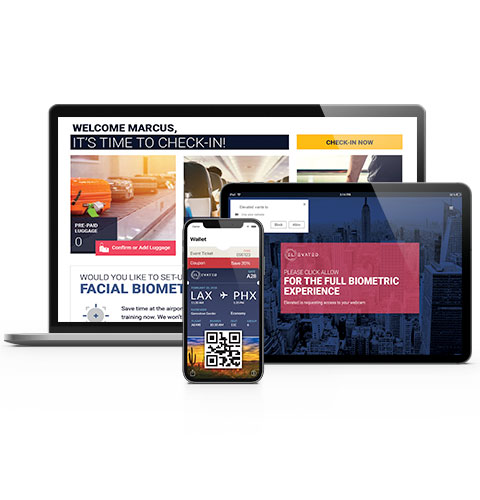 Elevated Check-In
Software That Enhances the Passenger Flow
The Elevated Check-In Software offers the travel industry a full-service, multi-platform passenger check-in experience. We enhance the passenger flow with options to start checking in on their home computer and continue on the go with their mobile device. The Elevated Check-In Software also offers airlines the ability for personalization, destination marketing and beacon technology.
Features:
A full-service check-in solution for airlines and airports (CUSS)
Persistent traveler multi-platform experience from mobile to desktop to airport
Can be fully integrated with your mobile app as desired
Biometric enrollment for faster and more secure airline travel
Personalization and marketing opportunities
Beacon Technology
Highly Customizable Interface
ACAA & ADA Compliant
Owned and Common Use Self Service kiosk compatible (CUSS 1x and 2.0)
Built on our Elevated CUSS Custom Software Development Kit (SDK)
Benefits:
Modern tech for a modern world: always upgraded, always updated
Remotely view and manage device fleet usage and performance
Create the ultimate lobby experience when paired with our Elevated TaggingTM software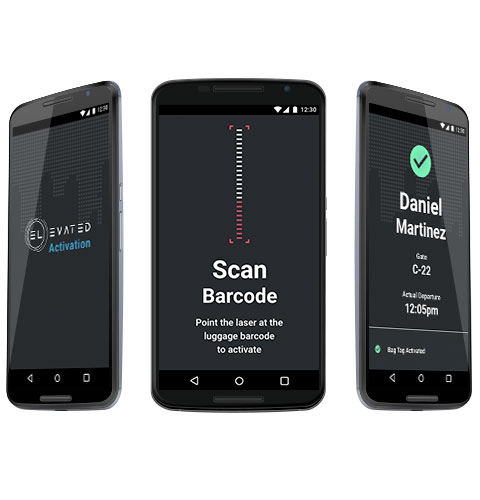 Elevated Activation
Activate Passenger Bag Tags in Seconds
The Elevated Activation Software replaces the current process of manually matching boarding passes with bag tag license plates and ID's. Our quick scan mobile application works alongside the Departure Control System (DCS) to activate the bag tag and identify passenger information, ultimately, enhancing the passenger and agent experience.
Features:
Native Android (Desktop version available)
Use with a wide array of device types
Extremely easy to use with minimal interactions
Highly customizable interface
DCS ready (Departure Control System)
LTE 4G, wired, or wireless connectivity
Benefits:
2-Step mobile application that speeds up the bag tag activation process through an easy to use interface
Allows for agent mobility
Enhances passenger / agent experience
Amplifies passenger identification process
Minimizes staff training
   Until you've built a great product, almost nothing else matters.
– Sam Altman
American entrepreneur, investor, programmer, and blogger.