GLOBAL ACCESSIBILITY AWARENESS DAY 2019
Global Accessibility Awareness Day gives a gleaming opportunity to start a conversation about a topic that is far too often forgotten. The third Thursday of every May is a chance to highlight the need for accessibility as the base of design, not as an obstacle or afterthought. Blndspt takes advantage of Global Accessibility Awareness Day to get the dialogue going.
Imagine scrolling through your feed in public
Maybe you're on the train to work or in a meandering meeting, and social media has provided a well needed distraction to the otherwise mundane day-to-day. What do you do when you come across a video without captions? Most people would just scroll right on by, whether they had a hearing impairment or not. According to Instapage, videos that were accessible ended up being more successful across the board with more views, longer views, and more post interaction.
Now think of your digital audience
Maybe your audience is just the person you're sending an email to or perhaps your social media following, or maybe it's your potential clients. Think of how much of your audience could be made up of disabled people, or non- native speakers, or aging and elderly people, and understand that assistive technology benefits them all. Have you ever used the pinch to zoom feature on your phone or tablet? Boom, you've benefitted from assistive technology.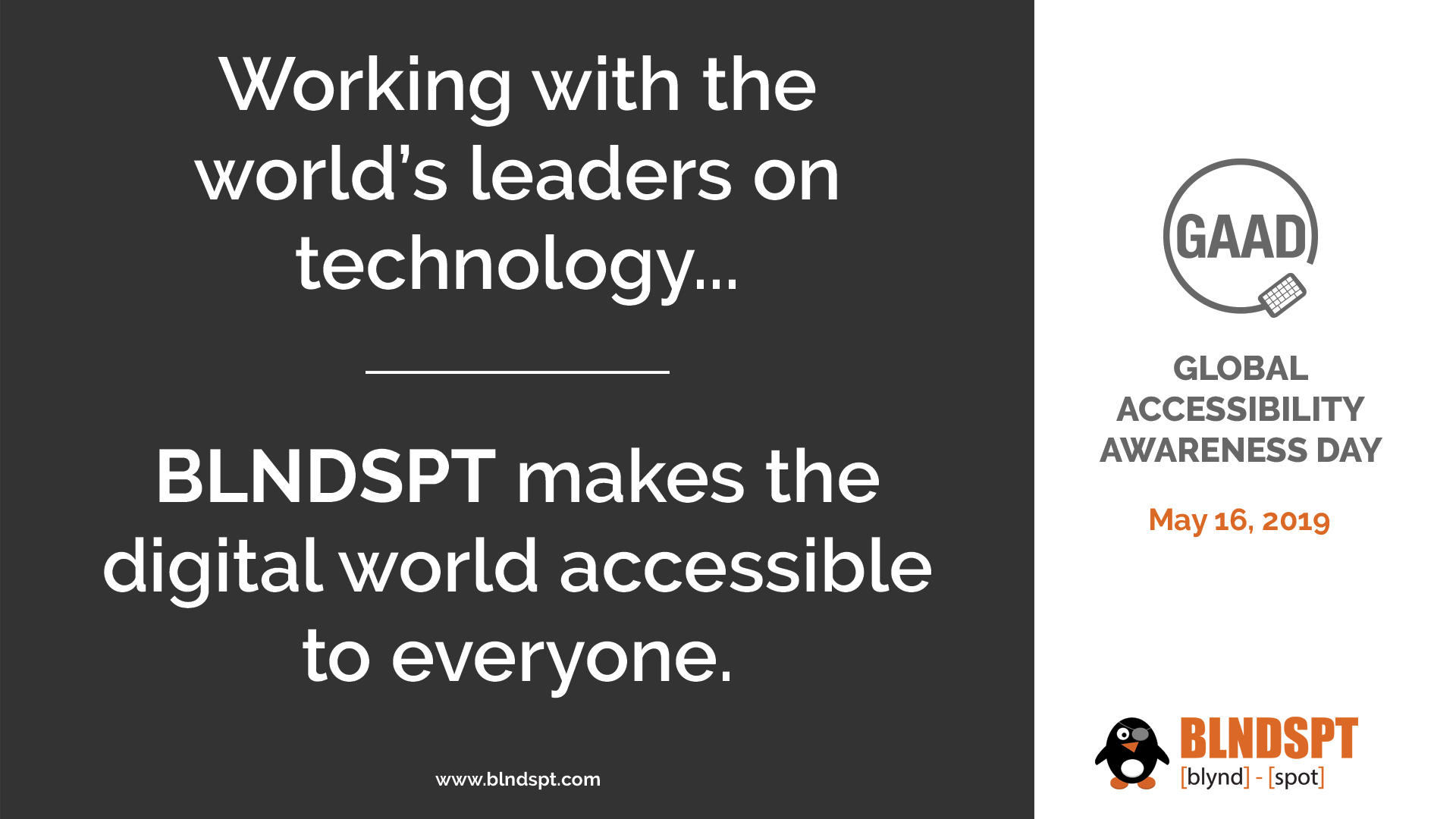 2019 flyer used to engage on social channels
Blndspt is striving to make the digital world more accessible and inclusive for everyone.
You can't put a band aid on a broken bone and expect it to heal. Accessibility overlays leave the root of the problem in the code. Therefore, that is not inclusion. Accessibility starts at the root of a website. To illustrate this, it is in of the design, it is in the code, and it is in the experience. Let Global Accessibility Awareness Day be your reminder that accessibility and inclusion as necessary building blocks to our world benefits everyone.
For more information on how Blndspt can help your website meet accessibility standards, check out our Accessibility Page.
Get Involved
The purpose of GAAD is to get everyone talking, thinking and learning about digital (web, software, mobile, etc.) access/inclusion and people with different disabilities.